SEC's mission is to partner with community members and organizations that are driven to dismantle the structural social injustices and racial disparities for black students in public schools through ongoing data collection and monitoring of district discipline data.
WHAT IS THE SCHOOL-TO-PRISON PIPELINE?
A disturbing national trend where children are funneled out of public schools and into the juvenile and criminal justice systems. Many of these children have learning disabilities or histories of poverty, abuse, or neglect, and would benefit from additional educational and counseling services. Instead, they are isolated, punished, and pushed out." ~ACLU, 2020
The Sunshine Education Coalition recognizes that the school-to-prison pipeline deprives students of color a right to a clear path to post-secondary educational and career pursuits. This detour routes students of color into the criminal justice systems. We understand that the pipeline is a result of policies and practices that are fed by institutional racism that disproportionately affects students of color. These policies are part of an intricate four part system upon which our youth's future rests. They include parent and community, the school system, law enforcement organizations, and the state attorney's office. These four work in conjunction to maintain the civility of our society or its detriment.
HILLSBOROUGH COUNTY SCHOOL-TO-PRISON PIPELINE
WHY IS THE SCHOOL-TO-PRISON PIPELINE FLOURISHING IN THE PUBLIC SCHOOL SECTOR?

INADEQUATE RESOURCES IN PUBLIC SCHOOLS

LACK OF QUALIFIED TEACHERS

LACK OF SPECIAL EDUCATION SERVICES


INSUFFICIENT FUNDING FOR "EXTRAS" SUCH AS COUNSELORS/NURSES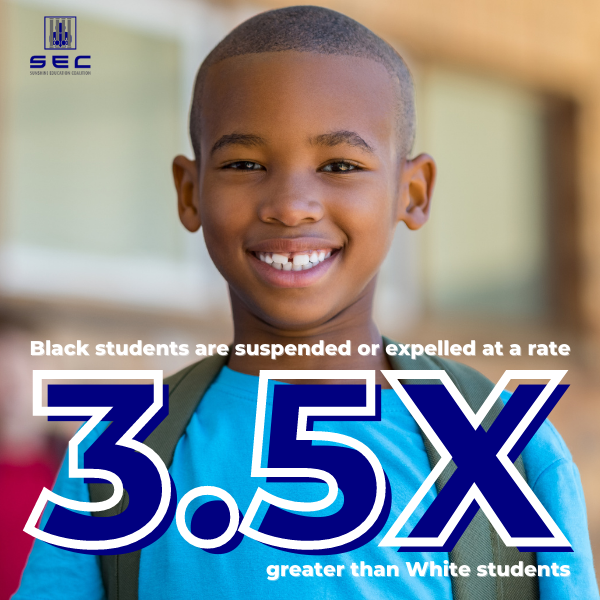 WHO IS IMPACTED BY THE SCHOOL-TO-PRISON PIPELINE?
Students from two groups—racial minorities and children with disabilities—are disproportionately represented in the school-to-prison pipeline

Black students are suspended or expelled at a rate almost 3.5 times greater than White students

Black students are most often disciplined for more subjective offenses, acts such as throwing food, cursing, disobeying a teacher, loitering, or making excessive noise, whereas their Caucasian schoolmates are less likely to be suspended